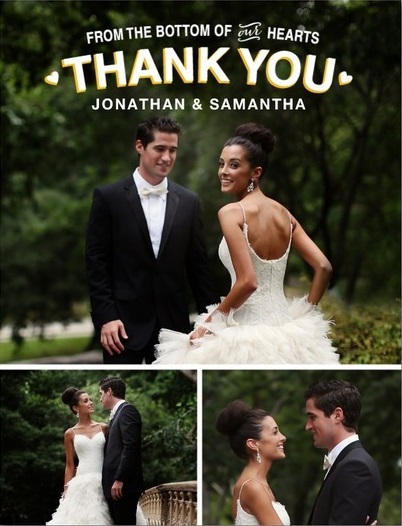 Your guests devoted their time in finding you the perfect wedding gift and attending your special day.  Devoting some time, perhaps a day or two,  to writing thank you notes is a great way to show gratitude.  Writing thank you notes can be overwhelming but with a little planning it doesn't have to be. Before you start surround yourself with everything you'll need such as pens, stationary, envelopes, custom stamps, seals, embossers, and address labels.
If you need to organize your thoughts and write a draft before you write the real thing, you might want to keep a notepad lose by.  After you've prepped yourself, choose a place in your home to write out your heartfelt sentiments. This could take a while so choose a place you feel is comfortable.  It could be your bedroom with all your wedding gifts spread out across the floor. Your living room or home office would work too. It doesn't hurt to have your favorite drink nearby either. Whether it's a cup of coffee, a hot tea, or a glass of wine, keep something close by that you enjoy sipping on.  Here are some helpful tips to help you write a heartfelt note of thanks.
Check the names  You may have to write a thank you note to guests that you don't know well. If you are in doubt of how to spell a guests name, check for the spelling on gift tags and wedding cards. You could also refer back to your wedding guest list or ask a family member. Nothing's worse than thanking the wrong guest or spelling the guest's name wrong.
Write a personalized message Avoid generic phrases and one-liners.  Your thank you note will mean so much more when you personalize it.  For example, tell your guests exactly how you'll use the gift. Don't forget to mention the actual gift. Guests LOVE to hear how their gift will be used. Write a genuine and well-thought out note that shows how much you really appreciate their gift.
Don't keep gushing about the money  Your guests may have been generous. Really generous. Feel free to tell your guests how you plan to use the money. Maybe you're using it to make your dream of home ownership a reality or using it for your honeymoon. Guests like to hear how you'll use their gift.  Show your gratitude for their support and focus on the time you spent with your guest at the wedding.
Thank those who sent a gift Some people send gifts even if they can't attend the wedding.  Be sure to thank those people too for their generous gift.  Write these notes out carefully. You don't want to thank them for being at your wedding when they actually were not. Believe it or not,  it's easy to lose track of who was actually present at your wedding when you're on a roll writing your thank you notes. Especially if you had a large guest list to begin with. Keep your guest list close if there is any doubt.
Send your thank you notes out in a timely fashion  There is really no good reason to take a year (or longer!) to send your thank you notes. Aiming for 1 or 2 months after the wedding is the norm. Guests will appreciate the quick response.
Don't forget to thank the plus ones  Address both recipient's names on your thank you cards. Your guest and their plus one will both be thrilled to get the co-addressed thank you note.
Don't show favoritism  There shouldn't be any favoritism towards those who gave you more generous gifts than others. For example, if you plan to insert wedding photos within your thank you cards, do it for all and not just some.  Your loved ones and friends will notice (they have their ways!) if someone receives a special wedding photo and they did not.
Skip email.  It might seem like the easiest and most efficient way to thank everyone all in one shot. Nothing could be more impersonal. Skip the email and take the time to hand-write your thank you notes.
Photo: Delightful Details / Touching Memories / Boundless Hearts / Sincere Script, from Wedding Paper Divas